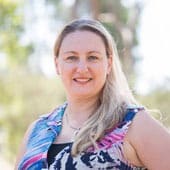 Connie Vakanis
Naturopath & Sports Kinesiologist
BachHS DipSpKin AdvDipNat Cert III & IV Fitness
I love the work I do. I am a nutrition nutter and believe "food is medicine" hence my love of naturopathy. Using kinesiology, I use muscle testing to access the brain's central nervous system to find why, where, and what the cause of the presenting issue is. I then use this information to identify what is needed to restore balance.
As a Naturopath, I tailor a treatment plan based on the person as a whole using scientific and traditional evidence when prescribing the healing qualities of herbal medicine, nutritional medicine, and lifestyle advice along with flower essence therapy.
As a Sports Kinesiologist I integrate orthopaedics, sports medicine, exercise science, nutrition and complementary medicine. 

 Using this model, we deal with emotions, biochemistry and energetic imbalances that can have negative influences upon our physiology, health and performance.  As a result, I am able to look beyond the superficial layers of the injury, illness, performance issue, muscle imbalance or pain and find the underlying cause to your problem and then address it using specific techniques to give you the best outcomes.
Using Functional Medicine, instead of looking for and treating health problems as isolated diseases, I treat individuals who may have bodily symptoms, imbalances and dysfunctions, using techniques like Advanced Diagnostic Laboratory Testing, hair tissue mineral analysis, blood pathology, stool, urine, saliva samples and Genetic DNA profiling.
Taking into account what we now know about genetics, epigenetics, and nutrigenomics, I look at how external factors are impacting your health.  These include your sleep, the foods you eat, where you live, plastics and toxins in general, as well as ageing and exercise.  We may look at genetic polimorphisms or Singular Nucleotide Polymorphisms (SNPs) – This is where your genetic code may have a variance in the DNA strand.  Some SNPs include MTHFR, COMT, MAO, PEMT and GST.  We can test your genes for these SNPs and give you advice on how to best help you reach and/or maintain complete wellness.
I completed my certificate III and IV in fitness in 2009 with the intention to continue on into Rehabilitation Therapy after being disheartened by the treatment I was given after multiple knee surgeries, some of which could have been avoided. However I found Kinesiology. I was totally blown away by what I achieved in just a couple of sessions so I went on to complete a Diploma in Sports Kinesiology in 2012 and I have loved every minute of it ever since. I feel that using this model has helped not only with rehabilitation of my own injuries but that of my clients alike. Due to my interests in nutrition, I completed an Advanced Diploma in Naturopathy (2017) and completed the Bachelor of Health Sciences Naturopathy (2019) and am currently studying a certificate in Functional Medicine as well as genetic polymorphisms, epigenetics and nutrigenomics as I believe these will be amazing adjuncts to what I already do.
Bachelor Health Sciences – Naturopathy
Advanced Diploma Naturopathy
Diploma Sports Kinesiology
Certificate III and IV in Fitness
Certificate Functional Medicine (in progress)
Reiki Master (in progress)
Secretly I love learning (proud nerd) and  have always had a passion for nutrition, cooking and all things natural.
I help with:
Diagnostic Laboratory Testing
Functional Medicine
Genetic Testing
Gut Health
Herbal Medicine
Mental Health
Men's Health
Men's Mental Health
Naturopathy
Nutritional Medicine
Orthopedic Assessments
Sports Kinesiology
Your Content Goes HereConnie has been assisting me with my left shoulder. It was suspected that due to my stomach not being able to digest food effectively and properly, that it has caused the inability of my body to absorb the nutrients from foods. This was concluded from the type of relief I had in the toilet. Connie has been fantastic in trying to get my gut back on track, providing me with supplements to use and also informing me of foods to stay away from and to eat from assessing what I ate daily. My gut is continuing to improve, with also less pain in my shoulder. Connie also provided me with some exercises to help with stability and mobility, which I'm continuously doing. I couldn't be happier with Connie's methods of healing, as this has opened me up to more natural ways of healing and finding ways that will help this problem in the future. This is opposed to taking medications that would continuously affect me in the long run.
-Jack E.
Connie is fabulous to work with. I felt very comfortable being with Connie on what was often an emotional roller coaster as we worked through issues that were blocking me in life. After each session with Connie, I walked away feeling lighter, brighter and ready to move forward in whatever direction I chose to. I still cannot believe Connie helped me from not being able to say the word "Dentist" to sitting through a root canal (and maintaining regular check-ups and other work needed)
-Debbie
Connie has a very good ability to understand and know what her clients needs are as well as a strong knowledge within her field. Her genuine care and focus on your overall well-being compliments her work nicely and I would definitely recommend her
-Carl, Apprentice Carpenter
Connie has been a fantastic asset to my well-being. She understands exercise and nutritional principles and is able to apply them to my needs to enable me to get the best out of myself
-Chris, AFL Field Umpire